Iraq does not possess surplus gas to pump via the Nabucco gas pipeline, Spokesperson for the Iraqi government Ali al-Dabbagh said.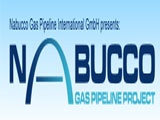 Iraq does not have any surplus gas to sell via the planned Nabucco pipeline now as it is focusing on its domestic needs but it may one day supply the project, a government spokesman said on Sunday, Reuters reported.
"There is a possibility Iraq will be one of the sources of the gas, but not in the current stage because we don't have surplus gas now," Ali al-Dabbagh said.
On July 10, Turkmen President Gurbanguly Berdimuhammedov said his country is ready to supply gas for Nabucco.
The 3,300-kilometer-long Nabucco pipeline is designed to pump gas from the Caspian region to Austria through Turkey. The route, which also goes through European Union (EU) member states Bulgaria, Romania and Hungary, bypasses Russia, the largest gas supplier for Europe.
The pipeline will ultimately be able to pump 31 billion cubic meters of gas per year by 2020, or about 5 to 10 percent of the total gas consumption of the EU by that time.
  Construction of the pipeline was expected to begin in 2010 with a total cost of 7.9 billion euros (11 billion U.S. dollars).
/RBK/