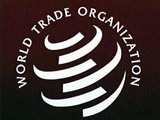 The Azerbaijani Government has launched bilateral talks with eight countries of the World Trade Organization (WTO) on country's entrance to the organization. The talks are being held in Geneva and will last to May 8, Azerbaijani Deputy of Foreign Minister Mahmud Mammadguliyev said before leaving to Switzerland.
"We are planning to hold talks with Japan, South Korea, India, Ecuador and other countries, said Mammadguliev. The talks with the European Union and several other countries are expected in June.
To hold bilateral talks the Azerbaijani Government has submitted new proposals on goods and services produced in accordance with the issues that were presented at meetings last year.
Mammadguliev added that the talks would also be held with representatives of the UN International Conference on Trade and Development (UNICTAD).
"UNICTAD renders expert support to Azerbaijan, and we will hold talks with the organization," Mammadguliyev added.
Azerbaijan is negotiating with the United States, Japan, Brazil, Ecuador, Sri Lanka, European Union, Norway, India, South Korea, and Taiwan Province of China. This year Switzerland will also included into the list. Gradually the list of these countries is increasing.
Switzerland offers a significant reduction of customs tariffs on agricultural and industrial products, proposed by the Azerbaijani side, almost two to three times.
WTO participating states demand further liberalization of customs tariffs despite they do not exceed 15 percent in Azerbaijan. Our strategy is to prevent any damage on our economic development interests," Mammadguliyev said.
WTO participating States demand from Azerbaijan to reduce tariffs and taxes in certain spheres and continue insisting on liberalization of Azerbaijan's trade regime and market services. The demands are to transfer to banking market through opening direct subsidiaries and insurance market of the country, including creation of daughter companies with 100 percent foreign capital.
Since 1997 Azerbaijan is observer in the WTO. Under the estimations of the Central-Asian Regional Economic Cooperation (CAREC) the member countries of the program will enter WTO until 2013.
/Trend Capital/