The Azerbaijan-Turkey Businessmen Association (ATIB) and US Azeris Network have signed a protocol of cooperation.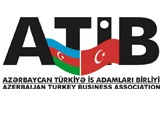 A source from  ATIB told Day.Az that the document was signed for propaganda of Azerbaijan and promotion of boosting business contacts between the two countries.
The protocol envisions seminars, symposiums, business forums and conferences for entrepreneurs of both countries. The sides will also strive for development of US-Azerbaijani economic ties, mutual investments in the economies of both countries.
At the same time, an agreement was reached about accession of US Azeris Network to the Trustees Council of the Azerbaijan-Turkey Fund of Historical Researches. US Azeris Network will also take part in the events, arranged in the South Caucasus, Black Sea region and ensure due support to this steps in the United States.