The Azerbaijan investment company is ready to invest in the renewable energy sources.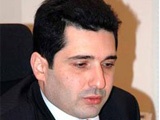 AIC chief executive Anar Akhundov told reporters that the company would like to participate in the project of construction of wind plants.
"But it would be possible only in case we get a certain business-plan and definite proposals. AIC is a financial institution, which can not engage in preparation of technical details. We need a partner, who will present a project and be its operator", said he.
According to Akhundov the talks on this topic are currently held and AIC tries to help the companies, interested in this sector as much as possible.
/Day.Az/