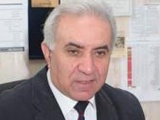 I am sure that Azerbaijan will become a member of the World Trade Organization in a couple of years but at the same time I think that the membership in this organization is a negative step both forUkraie and for Azerbaijan. This is because the accession to this organization offers nothing to the consumers of its member-states, except for the rise in the number of goods and services.
The due announcement was made by chairman of the Azerbaijan Union of Free Consumers Eyub Huseynov.
He voiced doubts that Azerbaijan's accession to WTO will secure the local market from low-quality goods and improve situation on the market of services.
"This doubts become even stronger taking into account the fact that China, which is the WTO member, has filled the whole world with its low-quality goods.
He said an ordinary shopping in local trade establishments would be enough to prove that Azerbaijani products make a low percentage of all goods and do not bear competition with import production.
"Such situation was due to the wide deficit of professionals, monopolization of almost all segments of consumer goods market, there is a lack of competition between local producers, which deteriorates quality of produced goods. The attempts to regulate market by administrative way and intention to attract attention to local goods by means of reducing prices, are not successful.
Now imagine what would happen when we access WTO and number of import goods will rise significantly!
I am sure that the possibility that WTO accession will eliminate the small number of local producers is high", he concluded.