Ambassador of Azerbaijan HE Dr Eynulla Madatli on Thursday called for strengthening the economic relations with Pakistan.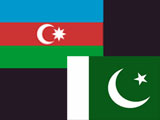 During a meeting with Muhammad Ijaz Abbasi, President Islamabad Chamber of Commerce and Industry (ICCI), he said the volume of trade between Azerbaijan and Pakistan needs to be expanded.
Commercial Secretary Sabir J Rzayev accompanied the ambassador.
Azerbaijan has the capacity to export oil worth billions of dollars per annum and it could also export gas to Pakistan, he said.
The ambassador said Azerbaijan was expanding its railways network with the neighbouring countries through joint ventures. He said Azerbaijan prefers brotherly countries for investment in these projects and invited Pakistani companies to invest in Azerbaijan.
Mr Madatli said the chambers of both the countries have to cooperate with each other and sign MoU to improve the trade and economic relations. To increase business activities, Pakistani businessmen are facilitated in obtaining Azerbaijan's visas. The chamber could bring a group of businessmen to visit Azerbaijan to look at the possibilities of trade and investment.
The ICCI president speaking on the occasion said the trade volume could be promoted through joint ventures in various fields of interest. Both the countries had deep historical, cultural and political relations and he expressed the hope that these relations would be further improved in the years to come.
Pakistan was short of energy and asked cooperation of Azerbaijan to meet Pakistan's energy requirements.
/Daily Times/