Anglo Asian Mining Plc. said its directors have been issued with shares in lieu of salary or fees for the Nov-Jan quarter, in order to preserve cash for the company's Gedabek project in West Azerbaijan.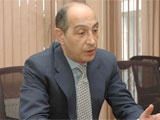 The directors will receive the shares at the Jan 31 closing price of 10.75 pence per share.
The move is in line with previous quarters, said the mining company.
Company president Reza Vaziri will receive 395,000 shares, giving him a total of 29.5 million shares, or a 29.46 percent stake.
/Thomson-Financial/