Iteca Caspian (Azerbaijan) and ITE Group Plc (UK) are holding the 7th International Tourism and Travel Exhibition (ATIF-2008) in Baku on April 16-18, 2008.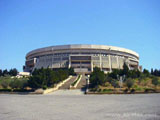 Abulfaz Garayev, Azerbaijan's Minister of Culture and Tourism, told the opening ceremony that 28 countries are represented in the show while there were 10 countries last year. He added that a number of new projects will be presented during the showcase. He spoke on the rapid development of tourism in the country, saying 107 hotels have been certificated by the ministry.
Farid Mammadov, Director of Iteca Caspian, added that ATIF-2008 will showcase airlines and air agencies, bus tours, tour operators, active and adventurous recreation, sports tourism, education tourism, airport services and other services from Turkey, Switzerland, Greece, Russia, Czech republic, Austria, Italy, Ukraine, Uzbekistan, UAE, Malaysia, Egypt, the Maldives etc.
Azerbaijan will be represented by recreation centers, hotels and tourism companies operating in Nabran, Guba, Lenkeran, Sheki, Shamakhi, Shemkir and other regions.
The event will coincide with the 2nd Hotel Business Showcase (HotelExpo).
The events are supported by Azerbaijan's Ministry of Culture and Tourism, World Tourism Organization, Azerbaijan Chamber of Commerce and Industry, and Azerbaijan export and Investment promotion Foundation (AzPromo).
/APA/