The number of mobile customers makes up 4,440,000 and internet users -1,000,000 in Azerbaijan.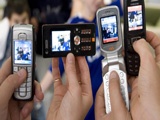 The due announcement was made by Ali Abbasov, Minister of Communication and Information Technologies, at a session of the collegium of the Ministry.
He said each 100 people account for 51 cell phones.
Works are carried out for application of new technologies by the Ministry. In the first quarter the number of cell phones was increased by 14,585.
Currently, their number makes up 1,268,605.
/Day.Az/