The number of targeted social assistance benefits beneficiaries will surpass 150,000 in Azerbaijan at the end of 2008 after the standard criterion is raised by 12.5% to AZN 45.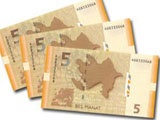 Natig Gasimov, Azerbaijan's Labor and Social Protection Ministry's Officer for Poverty, said 80,000 families currently receive social assistance benefits.
"75% of them receive benefits by card. The benefits are delivered by ATMs of the International bank of Azerbaijan and Kapital Bank. Families living in rural areas and border regions receive benefits by post," he noted.
The amount of targeted social assistance benefits is AZN 82 on average.
/APA/