Azerbaijan has been invited to participate in the Cisco Expo – 2008 Conference to be held in Almaty on March 25-26.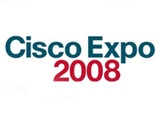 The conference will focus on unified technologies, information security, routing & switching, data centers, operators and solutions for small and medium-sized businesses.
In addition, special sessions will discuss the technology of wireless networking, optical solutions, Cisco service programs, network infrastructure and training programs.
/APA/