In the near future Azerbaijan's Ministry of Communications and Information Technologies will hold a session to discuss the list of proposals, including notifications and provisions to the European convention on cyber-crimes.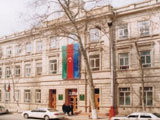 Day.Az reports with reference to the Ministry of Communication and Information Technologies that the list has been introduced by the Ministry of Foreign Affairs due to the initiative of Azerbaijan's participation in the said convention.
It should be noted that the CoE convention on cyber-crimes was adopted in Budapest in November of 2001. The convention aims to bring laws on cyber crimes in correspondence with one another, as they differ in all countries.
/Day.Az/