Ukraine has imposed a ban on the import of pork from Azerbaijan, APA reports.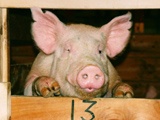 Ukrainian State Veterinary Medical Department made this decision after a report of International Epizootic Bureau on the reveal of African swine fever in Azerbaijan.
The press service for the department stated that veterinary requirements should be seriously observed during import of products from Azerbaijan which need veterinary examination.
The State Veterinary Service (SVS) under Azerbaijan Ministry of Agriculture examined samples taken from swine kept and died of the disease in Nij village of Gabala region.
SVS told APA that the examination in the Republic Veterinary Laboratory revealed that the swine died of African fever.
Therefore, quarantine was imposed for preventing spread of the disease in Nij village. SVS undertook veterinary-sanitary measures in the region and started veterinary-enlightening works.
SVS stated that African fever which was revealed in Nij village of Gabala region of Azerbaijan for the first time is under control.
The Service is taking necessary measures in that area along with the due state bodies.
/APA/