It is not planned to review customs tariffs in Azerbaijan by the end of the year.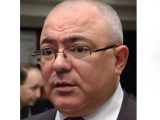 The due information was provided by Aydin Aliyev, chairman of the State Customs Committee.
He said the main task is elimination of unnecessary privileges. Amendments have already been introduced to the Tax Code and the list of VAT-imposed goods will expand by January 15 of this year.
At the same time, medicines, fertilizers, industrial materials have been released from VAT.
It should be reminded that the budget forecast for customs bodies for 2008 makes up AZN 1,100,000,000.
The State Customs Committee comprises the Customs Committee of the Nakhchivan Autonomous Republic and 18 departments, foreign economic association Azerterminalservice, Central laboratory, regional educational center of the World Customs Organizations and the sport complex.
/APA/