Azerbaijan will purchase JF-17 pursuit planes from Pakistan.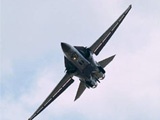 APA reports with reference to the Defense Ministry of Pakistan that light pursuit plane JF-17, also known as FC-1, has been developed by China in cooperation with Pakistan.
The project was previously fully implemented in China. Pakistan took part in the development of various units and details. In late 2006 Pakistan got three ready pursuit planes for testing.
This plane was first presented on the Day of Pakistan on March 23 of 2007. The commander of the air forces Tanvir Makhmud Akhmed announced that in the next 20 years Pakistan will produce 500-600 planes of this kind including 150-200 ones for the needs of its own army.
This single-seated plane is equipped with a Russian-made engine RD-93 and its pay load is 3.8 tons. Its range ability is 3,000 kilometers.
The plane is able to carry air-to-air and air-to-ground missiles and other equipment. The cost of production is $15,000,000.
/APA/