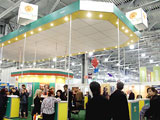 An Azerbaijani delegation led by Sabina Kerimova, chief of marketing department under the Ministry of Culture and Tourism will leave for Spain to take part in the 18th International Exhibition on Tourism "FITUR-2008" on Monday.
The exhibition will last from January 30 until February 3 in Madrid, Spain, Novosti-Azerbaijan reports with reference to Sabina Kerimova. She said the delegation will also include Turkan Ismailova, chief of the sector of analysis and programming of the tourism department.
She noted that a stand of 24 square meters has been alloted to Azerbaijan for the purpose. Different materials, including brochures, placards, describing the places of interests in our country, photos and video materials on tourism establishments of Azerbaijan, will be demonstrated in the pavilion and films on the tourist potential of Azerbaijan will be transmitted in English.
According to the chief of department, the Azerbaijani delegation will also take part in many international exhibitions to be held in various cities of the world to propagandize the tourism potential of Azerbaijan by the end of the year.
The visit of the Azerbaijani delegation to Spain will end on February 5.