Azerbaijan will build a state-of-the-art oil refinery in Ukraine, the country's president Viktor Yushchenko told on 1+1 TV channel.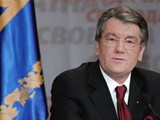 He spoke of his meeting with his Azeri counterpart Ilham Aliyev at the World Economic Forum in Davos on January 24.
According to him, the work is under way to achieve the averse mode of the Odessa-Brody route.
He added a public tender has been announced for feasibility study for extension of the Odessa-Brody pipeline to Plotsk.
Yushchenko noted that delivery of Azerbaijan's premium-quality oil to Parlup (Czech republic) via the Friendship Pipeline is being explored.
Last week, the Ukrainian Minister of Fuel and Energy met with Azerbaijani ambassador to Ukraine.
Azerbaijani ambassador said his country is ready to pump 5 million tons of oil per annum into Odessa-Brody pipeline in the averse mode.
The issue will be discussed at the Energy Security Summit in Kiev in May.
The Azerbaijani ambassador Talat Aliyev said the State Oil Company of Azerbaijan (SOCAR) takes interest in refining and selling oil in Ukraine.
He also suggested setting up a joint venture for transportation of crude oil to Ukraine.
/APA/