The first vacancy fair for foreign workers will take place in Moscow on May 16.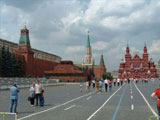 The Moscow government will organise the first such event together with the Azerros Azerbaijani community.
Several dozens of organisations and companies will participate in the fair.
The capital's authorities will attract employers to the market, and the Azerros organisation will attract workers, and not only from Azerbaijan, but also from other countries -- Moldova, Kyrgyzstan and Kazakhstan -- those migrants who legally reside in Moscow and have permission for work in Russia, but cannot find a job. Residents from Russian regions are also invited.
Employers and workers can acquaint with each other at the fair. Many will have interviews to be employed. If a seeker needs a consultation, he or she may consult experts who will answer any questions related to the labor legislation. Itar-Tass