A 7,000-kilometer circular road around the Black Sea will be built within the next few years, says a draft memorandum of the Black Sea Economic Cooperation Organization approved by the Russian government.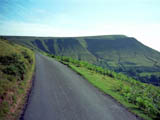 The road may go through Turkey's Istanbul, Samsun and Trabzon; Georgia's Batumi and Poti; Armenia's Yerevan; Azerbaijan's Baku; Russia's Novorossiisk, Rostov-on-Don and Taganrog; Ukraine's Mariupol, Melitopol and Odessa; Moldova's Chisinau; Romania's Bucharest and Constanta; Bulgaria's Haskovo and Sofia; Serbia's Nis and Belgrade; and Albania's Tirana. Extensions may be built to Greece.
"The road will have a high traffic capacity and ensure safe, speedy and convenient traveling," the draft memorandum runs. "It will promote the economic and social development of the European continent."
The sides will form a fund for financing the project, while the memorandum will be valid for ten years and extended every next five years if necessary. Itar-Tass