The Taxes Ministry of Azerbaijan transferred AZN 226,271 to the state budget against the target of AZN 250,058.7 at a 9.5% deficit during March.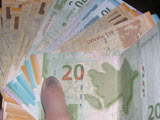 The ministry told APA-Economics that AZN 570,810 came from VAT collection, AZN 2,613.7 from land tax, AZN 6,855.3 from property tax, AZN 51,076 from individual income tax and AZN 2,820.7 from road tax.
However, collection in some groups came short of meeting the forecasts. AZN 18,623,500 (99.4%) came from excise tax, AZN 65,222,900 (95.6%) from profit tax, AZN 11,154,400 (99.4%) from mining tax, AZN 4,107,600 (92.6%) from state duties, AZN 2,946,300 (70.5%) from simplified tax and AZN 3,040,600 (11.2%) from other payments.