Business forum is being held in Seoul with the participation of Azerbaijani and South Korean government officials and businessmen.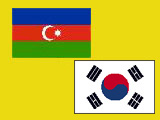 Economic Development Ministers of the two countries, Korean Chamber of Commerce and Industry president, Korean Trade Ministry's and Korea Industry and Energy Ministry's representatives addressed the forum.
The presentation of Azerbaijan's investment environment and business prospects was held there. Azerbaijan companies' representatives are holding talks on cooperation prospects with their counterparts from Korea.
40 Azerbaijani and 60 Korean companies are represented in the forum, APA reports.