With several large infrastructure projects in progress, such as the Black Sea coastline highway, the Marmaray metro project -- which will cross the Bosporus Strait -- the Baku-Tbilisi-Ceyhan oil pipeline, the Nabucco and many others, Turkey is rapidly checking off its to-do list of national projects.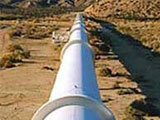 The latest item of the agenda, the Samsun-Ceyhan oil pipeline, is coming into the foreground with a groundbreaking ceremony in Samsun. The construction of the pipeline is planned to be completed in three years.
The pipeline, also called the Trans-Anatolian Pipeline Project (TAP), will carry crude oil from Central Asia and the Caspian Basin to the Mediterranean across Turkey. The project is expected to increase Turkey's strategic importance in terms of energy and reduce the possibility of an oil tanker collision in the crowded Bosporus, a nightmare scenario that would result in heavy environmental damage and numerous casualties.
Today's ceremony will be attended by Energy and Natural Resources Minister Hilmi Guler and Italy's Industry Minister Luigi Bersani. The Trans-Anatolia Petroleum Company (TAPCO), owned by Calik Energy and Italia's energy giant ENI, will be equally responsible for installing the pipeline across the country.
The inauguration day was planned with extreme care and forethought; 200 workers have been working 24 hours a day for the last week to insure that every detail is perfectly considered and planned. The necessary materials were carried to the location from Istanbul by 18 semis a few weeks ago. Even village roads were asphalted for the smooth passage of the vehicles.
A large tent was erected to accommodate the guests that has VIP rooms and a large dining hall for 700 people. Calik Group Chairman Ahmet Cal?k and ENI CEO Poulo Scaroni will be hosting the occasion. To preserve its status in the energy market, Russia has launched an alternative project to carry its natural resources to the Aegean Sea, by-passing Turkey, Bulgaria and Greece. The Burgas-Alexandroupolis pipeline would decrease Turkey's importance as an energy hub, but the TAP is thought to compensate for this loss. With the Burgas-Alexandroupolis project, Russian oil will be carried to Bulgaria's Burgas port by ships through the Black Sea and will be pumped to the Alexandroupolis port in Greece. The Russian oil will then be shipped around the world.
TAP is estimated to cost $1.5 billion. It will be utilized with a 1 million barrel per day (bpd) capacity initially, but later the capacity will be increased to 1.5 million bpd.The pipeline will be 555 kilometers long, complete with modern pump stations. There will also be four pressure regulating stations. In Samsun, a warehouse with a capacity of 6 million barrels will be constructed. Today's Zaman