Business-seminars on accounting will be held in Azerbaijan Bank Training Center (ABTC) from April 25 to 27.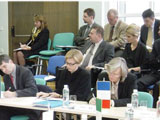 ABTC told that the seminar will be organized in the frame of project, founded by International Finance Cooperation and BP Exploration Ltd, on development of business services for Small and Medium Enterprises.
The courses are mostly considered for the chiefs of the enterprises, managers and for the students of corresponding faculties, APA reports.
The seminar will cover reports on aim of accounting, main principles, users, finance-management accounts, and balance account, structure of the assets, commitments, personal capital and technics.