A local individual has won investment competition for the shares of Baku Taxil Open Joint Stock Company.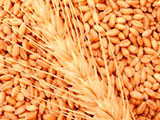 The contest announced by the Azerbaijan State Committee for Public Property Management sought bids to produce flour, bread and grain products meeting international standards and norms and expand the product mix, APA reports.
As per the investment program, he investor has to invest AZN 316,000 in reconstruction and repair of flour mills, modernization of broad production, application of advanced technology and increase of grain procurement, improvement of employment opportunities and employees' social security.
The winner has to transfer AZN 480,000 to the state budget within 60 days following the date agreement is signed.