The total daily production rate at Azeri-Chirag-Guneshli has beaten 690,000 barrels per day.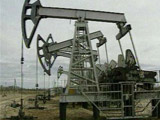 The company predicts that Chirag will produce around 141,000 barrels, Central Azeri 168,000 barrels and east Azeri 142,000 barrels for 2007.
"We are planning to produce 708,000 barrels per day from the four platforms in total for the full year," BP-Azerbaijan press service said.
During 2006, the group produced 472,000 against the plan of 458,000 barrels of oil per day average, achieved through delivery of first oil from East Azeri four months ahead of schedule and overall good well performance and operating performance. APA