Azerbaijan communications market player Caspian American Telecommunications, LLC (CATEL) Joint Venture will enlarge its coverage around the northern and southern regions of Azerbaijan to provide CDMA (Code Division Multiple Access) services.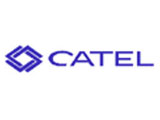 Today, CDMA set of CATEL JV is operating not only in Baku, Absheron and Sumgait but also in Ganja, Nabran, Shamkir and Ali Bayramli.
"Installation of CDMA wireless central communications network stations in other regions of Azerbaijan will be completed by this year's end. We are planning to conclude roaming agreements with foreign companies this year too," said the CATEL Technical Director Vugar Hagverdiyev, APA-Economics reports.
Caspian American Telecommunications, LLC (CATEL), one of the first Azerbaijan-American joint ventures in the telecommunications industry, is a joint venture between the Government of Azerbaijan and a United States consortium, Omni-Metromedia Caspian Ltd. (OMCL) which is majority owned by the US-based Omni Communications Inc. and includes AIG, Verbena, and WorldTel. CATEL is the only mobile provider in Azerbaijan with the Code Division Multiple Access (CDMA) services.