Azerbaijan's Energy Minister said Wednesday that the ex-Soviet Caspian Sea nation would double its oil output by 2010.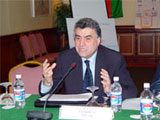 Azerbaijani Energy Minister Natiq Aliyev said at a news conference that crude production, which stood at 32.3 million tons last year, would reach 65 million tons in 2010.
Aliyev said most of the oil would be produced at Azeri-Chiraq-Guneshli fields which will also account for the bulk of the nation's natural gas ouput expected to reach 30 billion cubic meters in 2010.
Crude supplies began last year via the US$4 billion Baku-Tbilisi-Ceyhan pipeline that allows the West to tap oil from the Caspian Sea fields, estimated to hold the world's third-largest reserves, bypassing Russia and Iran.
Washington staunchly supported the 1,768-kilometer (1,100-mile) pipeline as part of a strategy to tap sources of crude outside of the Middle East and draw the Caspian states away from Russia and closer to the West.
/Houston Chronicle/