New pipelines mean competition, not confrontation with Russia.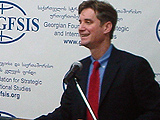 The United States can play a constructive role in the Caspian Sea region by negotiating framework agreements to diversify energy production and delivery, according to Deputy Assistant Secretary of State for Southeast Europe Matthew Bryza.
A memorandum of understanding (MOU) signed by the governments of the United States and Azerbaijan shows the benefits of the U.S. approach, Bryza said March 22.
The MOU, signed March 22, expresses the intention of both governments to establish a high-level dialogue on energy security in the Caspian region. The main object of the dialogue would be to realize pipeline connections that would transport natural gas from the Azerbaijani capital and Caspian port of Baku to Italy and Austria, thus giving it direct access to European and global markets.
"We're not going to subsidize it, we're not going to pressure anybody, but we're going to do whatever we can to help eliminate disinformation and smooth the investment process," Bryza said about the main project mentioned in the agreement.
The project consists of joining the existing pipeline, which runs from Baku through Tbilisi in Georgia to the Turkish Black Sea port of Erzurum, to a new pipeline that would continue from Turkey through Greece to Italy. Later the natural gas also could move through the planned Nabucco pipeline from Turkey through Bulgaria, Romania and Hungary, to Austria.
The project would help increase energy cooperation, diversify natural gas sources for Europe and allow Azerbaijan and private companies to bring their product to the European market "on more market-based terms," Bryza said.
Now, most pipelines in the Caspian region and in Central Asia are owned or controlled by Russia. Both planned delivery routes of Caspian natural gas would be privately built and operated, and would bypass Russian territory.
"I would say monopolies in general are a bad idea -- especially in the energy sector," Bryza said. He added that by supporting the projects, the United States seeks "competition, not confrontation with Russia." He said the competition might even help the Russian gas monopoly Gazprom by making it operate better. "The Russians are great competitors in everything," he said.
The United States has been involved in promoting several pipeline projects in the area -- most recently the Baku-Tbilisi-Ceyhan pipeline that transports Caspian oil to a Turkish port of Ceyhan.
The energy-rich region of the Caspian Sea and Central Asia comprises mostly landlocked former Soviet republics that need foreign investments to develop their resources and deliver them to world markets. The bulk of oil and gas is located in Azerbaijan, Kazakhstan, Turkmenistan and Uzbekistan. Turkmenistan and Uzbekistan are especially rich in natural gas.
Since the dissolution of the Soviet Union, the United States and other energy-consuming nations have looked at the region as a potential alternative source of energy to the less politically stable Middle East. In addition, the region's geographic location next to Iran, Afghanistan and Pakistan gives it a strategic position in the global War on Terror.
But the region is not without its own sources of instability, including ethnic tensions, radical Islamic movements, corruption, drug trade and repressive, authoritarian regimes. Bryza said that democracy and human rights remain on the bilateral agenda with Azerbaijan, together with security and energy issues. "So we need a balance. We need to pursue all three at the same times," he said.
Evan A. Feigenbaum, deputy assistant secretary of state for South and Central Asian affairs, said U.S. policy toward the region goes beyond the economic area. "We aim to support the development of fully sovereign, stable, democratic nations," he said in Washington March 20 to the U.S.-Kazakhstan Business Association and the American-Uzbekistan Chamber of Commerce.
Despite their predominantly centralized, interventionist governments, some countries of the Caspian Sea-Central Asia region remain largely open to foreign investment and avoid tight state control over energy sectors. Azerbaijan and Kazakhstan have been particularly successful in attracting foreign funds by opening their energy sectors to major Western companies, according to economic experts.
Feigenbaum rejected the idea that the United States treats Central Asia merely as an arena of competition with other powers. "We encourage the development of as many trade links in as many directions as possible. … Countries should never be left with only one option -- one market, one trading partner, one vital infrastructure link," he said.
/www.usinfo.state.gov/