Presentation ceremony of the first tractor Belarus 80.1 assembled at Ganja Automobile Plant was held.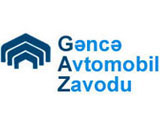 Head of Ganja Executive Power Eldar Azizov, deputy chairman of Minsk Tractor Plant Viktor Lubeshko and representative of Minsk Automobile Plant Dmitry Tomilchuk participated in the ceremony.
Eldar Azizov said that Ganja Automobile Plant is improving. "About 100 people were employed in Ganja Automobile Plant two years ago, this figure reached to 300 now. The number of employees will possibly reach to 1,000 soon. This is a great achievement and shows Ganja's progress," he said.
According to the contract signed with Minsk Tractor Plant 1,000 Belarus 80.1, Belarus 80.2 and Belarus 1221 tractors are to be assembled in Ganja Automobile Plant.
According to the contract between Ganja Automobile Plant and Agrolizing Open Joint Stock Company, the tractors assembled in the plant will be delivered to Agroleasing.
The number of tractors assembled in the plant is expected to double next year. 60 tractors will be assembled on the basis of spare parts brought from Minsk. On average 40 tractors are planned to be assembled in the plant every month. Technical potential of the plant allows assembling 2,000 different tractors and 750 lorries a year. APA