A seminar initiated by UNIfans, a Paris-based Organization, discussed the topic "Azerbaijan, Georgia, Kazakhstan and Uzbekistan: the visible sides of economic growth."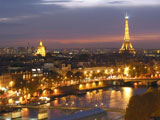 Members of the friendship groups of Senate, ministers and ambassadors of numerous countries, representatives of famous French banks and companies, economists, politicians, local and foreign journalists attended the workshop.
After the reports on socio-political situation in these countries were heard, the participants noted the leading role of Azerbaijan in region, the increasing image of the Republic on the international arena, its successful integration to the European countries' economy, its becoming a powerful state in the economic field, despite the problem of refugees and IDPs.
As was noted, the aggressive state of Armenia, as a result of its policy, was sidelined from all the projects being realized in the South Caucasus region, the country's economy fully paralyzed.
Then, the workshop continued in separate sections. Chaired by Alexander Trubetskoy, the head of the economic mission of the French embassy in Baku, the Azerbaijan section of the seminar noted high economic indices in the Republic, reliable investment environment and record GDP - 35,5%.
When the European Union experiences energy crisis, this international organization notes the importance of Azerbaijani gas for Europe, estimating construction of Baku-Tbilisi-Ceyhan oil pipeline as historical event.
The seminar participants noted, that "due to expedient policy pursued by Azerbaijani President Ilham Aliyev, France has reached large economic cooperation with Azerbaijan and the French companies actively take part in development of both oil and non-oil sections in Azerbaijan." AzerTAg