Oil supply from countries outside OPEC will grow strongly through 2007 because of significant new production in central Asia, North America and Africa, energy consultants Wood Mackenzie said on Wednesday.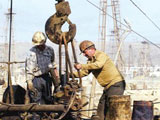 Wood Mackenzie estimated non-OPEC oil and natural gas liquid production, including new OPEC member Angola, would average 50.2 million barrels per day in 2007, up 1.5 million bpd from 2006.
That is above the 1.1 million bpd projected by the International Energy Agency, adviser to 26 industrialised nations, in its most recent monthly oil market report.
Wood Mackenzie said the rate of increase was likely to accelerate in the fourth quarter, when production was expected to run 1.6 million bpd higher than the same period of 2006.
"We have identified seven projects, led by BP's Azeri Chirag Guneshli development in Azerbaijan, which will add an average of over 100,000 b/d each," said Patrick Gibson, Principal Oil Supply Analyst for Wood Mackenzie.
"With the top 25 projects adding an aggregate 2.1 million bpd of capacity there is a broad base to the production growth expected. The bulk of the additional supply in 2007 will consist of light and medium grade crudes," he added.
Wood Mackenzie concluded the new supplies would keep the pressure on the Organization of the Petroleum Exporting Countries to restrain its output, but this would only serve to increase OPEC's spare capacity.
"This points towards more OPEC 10 production restraint during 2007, which serves to increase the group's spare productive capacity. During 2007 this could be a source of downward price pressure, although the tension over Iran's nuclear enrichment program is an offsetting factor," said Ann-Louise Hittle, head of oil market analysis. Reuters