Heads of Azerbaijani, Kazakh and Russian Accounting Chambers will meet in Aktau on March 12.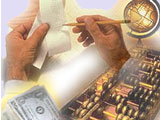 Azerbaijan's top body told APA-Economics that the results of the audits over the decision on bioresources of the Caspian Sea will be discussed.
The Chair of Iran's Audit Court is also expected to attend the meeting. Deputy Chair of Azerbaijan Auditing Chamber, Abbas Allahverdiyev, will lead the delegation to the meeting.