In April Moscow will host the meeting of the Russian-Azerbaijan Intergovernmental Commission for Economic Cooperation.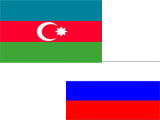 Russian ambassador to Azerbaijan Vasili Istratov told APA-Economics the agenda is under discussion at present.
The ambassador noted that trade turnover between the countries reached $147.1m in January and Azerbaijan imported goods worth $107.2m (a rise of 2.3 times) and Russia imported goods worth 39.9m from Azerbaijan (3 times).
He added that the amount doesn't include the natural gas imports.
"Our commercial relations are developing even apart from mineral resources," he said, adding that the trade in 2007 will exceed last year.