Azerbaijan's Sinam has sent a package of proposals on the project of establishment of innovation zones in Azerbaijan to Booz Allen Hamilton consulting firm.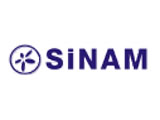 Sinam President Elchin Aliyev told APA that the offer to establish three regional innovations zones in Nakhchivan, Baku and Mingechevir.
He said Sinam will also take part in creation of innovation zones.
"Our participation can go through three ways: first, we can come to the ready innovation zones to have privileges; second, we can supply some equipment in establishment process; third, we can provide financing to the project," he said.