Azerbaijan, Georgia and Turkey will use a parallel power grid in a few years and the parties are carrying out technical and economic assessment of the project.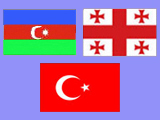 Turkey and Georgia will have construction works in their territories while Azerbaijan will reconstruct power supply lines and networks.
Azerenergy told APA that connection of the power grids in the three countries will enable Azerbaijan to reach European and global energy network.
For some years, Azerbaijan, Iran and Russia have been using electricity systems in parallel.
Azerbaijani President Ilham Aliyev, Georgian President Mikhail Saakashvili and Turkish premier Recap Tayyip Erdogan signed an agreement on parallel operation of the power systems.