Despite bank sector is a dynamically developing business in Azerbaijan, high-tech process, especially Internet banking, e-commerce etc. is limping.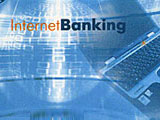 Internet-banking technology is inefficiently used and this poses serious problems to local market: Banks acquire Internet-banking systems while they fail to circulate to clientele. Technical sight of the problem is not the matter (everything is ok here), however, the PR campaign among customers is at low level.
Although, a few years ago, IT experts insisted that distance banking can be elevated to a popular instrument in Azerbaijan, but in vain.
Internet-banking develops in parallel to information technology market and leads to availability by computers, mobile phones, pocket computers etc.
Acquisition of Internet technologies mostly depends on the clientele, development strategy and largeness of a credit organization. However, Internet-banking is not prospective and profitable in regions as very few have access to the Internet, and banks prefer bank-customer system.
Banks usually rely on their own-made software in distance banking while for Azeri market it is not advantageous as many use universal software, fearing development of software an take up long time and the ideal product will go out-of-fashion.
As a rule, software makers free banks from this problem such as foreign companies, Mides, R-Style, Force and local Smat Systems and AZEL's Progress.
E-commerce market is regarded as prospective and successful for recent years, and needs direct access to communications and well-developed legal framework. State bodies have begun to take account of informatization and the legal framework is expected to be improved in the nearest future.
If serious steps are not taken toward security of virtual operations, e-commerce and e-operations will be in danger.
Experts say companies can find two solutions to the problem: to obtain software worth between $15,000 and $20,000 to ensure security of savings or assuming the responsibility for lost finances. Local companies have not yet referred to either of the options as the first may not be cost-effective while the second is risky.
Here we can say the more independent on information technologies business, including banking is growing, the more security and defence information resources and technologies demand.
It means protecting money in cyber world. However, this becomes more and more difficult and impossible as hackers brush up their techniques, tactics to break defence systems. The potential threat requires regularly checking up and renewing systems, developing and improving protection antivirus programs against any malware and being on full alert. APA Economics