Bakielectricshebeke, Baku Electricity Network Company, began to cut off electricity supply to debtors from 1500 hrs, February 15.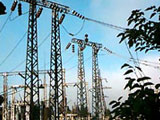 Company Public Affairs Officer Tanriverdi Mustafayev told APA that electricity supply to 2,800 non-payers had been planned to be cut off Thursday.
"1,896 customers paid the bills by 1500 hrs. Supplies to 72 customers have been stopped," he noted.
He added that the time given for some 6,000 customers to pay off electricity bills is expiring on February 16. Every consumer has been noticed about debts.
Bakielectricshebeke announced March as a debtless month.