In late February, a presentation will be delivered on Phase 2 of the project for establishment of oil-chemical enterprise by LY Investment Consulting Company.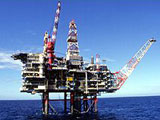 Azerbaijan Investment Company Executive Director Anar Akhundov told APA that paperwork for the Phase 2 is ready and the consulting company will inform AIC about the cost, prospects and other issues on the project.
He added AIC is negotiating with shareholders- Holcim and EBRD on acquisition of a 20% stake in Garadagh Cement.