Russia will spend at least $11 billion to build the first leg of its oil pipeline to Asia, up from initial estimates of $6.6 billion, pipeline monopoly Transneft said in its Euro-bond prospectus.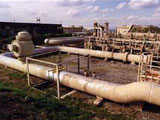 "Phase 1 of the project is scheduled for completion in late 2008 and the total cost to Transneft is expected to be approximately $11 billion. The cost of Phase 2 has not yet been evaluated," said the prospectus, obtained by Reuters yesterday. The prospectus is for a seven-year benchmark Eurobond in dollars. Phase One of the scheme envisages shipments of 600,000 barrels per day (bpd) to China.
Transneft had to revise the project last year as the route was passing too close to the ecologically sensitive Lake Baikal. Transneft has said the new route would cost more. Phase Two foresees expansion of the link to 1.6 million bpd and construction of a second leg to the Pacific coast, where a terminal would be already built as part of Phase One. "We estimate that the pipeline monopoly may spend as much as $20 billion on the entire project calculated at 2006 prices," Deutsche UFG said.
Valery Nesterov from Troika Dialog brokerage said the project could turn out to be one of the most expensive ever, with planned capital expenditures of around $3.9-$4.0 million per km of pipeline.
By comparison, the BP-led Baku-Ceyhan pipeline from Azerbaijan to Turkey cost $2.2 million per km, while the Chevron-led CPC pipeline from Kazakhstan to Russia's Black Sea port of Novorossiisk cost $1.7 million per km. Reuters