Azerbaijan International Fashion and Accessories Exhibition will be held in Azerbaijan for the first time on March 6-8.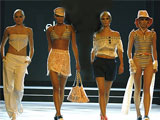 Women/men/children wear, Knitted wear, Leather and furs wear, Lingerie and swimsuits, Sportswear, Wedding wear, Working clothes, Accessories, Jewellery, Bags, gloves, Head dresses, Women, men, children, sports, model & daily footwear will be exhibited in the exhibition organized by the ITE Group PLC (Britain) and Iteca Caspian LLC (Azerbaijan).
ITE Group PLC told APA that companies Zapa, Bosca, Bande Originale, Mark and Andre (France), Lemmi Fashion CMBH (Germany), Battibaleno Rila Style (Britain-Bulgaria), AERC (India), Designers Collezione (Italia-Azerbaijan) and famous figures in fashion world will participate in the exhibition.