Azerbaijan Agriculture Ministry has suggested selling fuel, lubricants and fertilizers to farmers at 50% discount in order to mitigate the impact of energy price rise on agricultural production.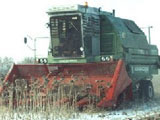 Deputy Minister Bahram Aliyev told APA that criteria for distribution of subsidies to farmers will be determined by a presidential decree to compensate farmers for the price rise.
He noted that special commissions will be set up so as to target subsidies to the end-user.