The State Program for Social and Economic Development of Regions is mostly related to improvement of the legal framework in Azerbaijan, Economic Development Minister Heydar Babayev told a conference dedicated to the third anniversary of the State Program.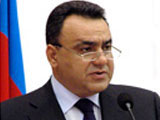 He said Azerbaijani President Ilham Aliyev visited 28 cities and regions, including Nakhchivan AR and opened production and service facilities, and this factor played a vital part in implementation of the State program.
"Parliament passed a great number of laws related to the development of regions and the work will continue to align local legislation with international standards," he said.
He said favorable macroeconomic climate is a significant stipulation of the development of regions, and 2006 went down to the history as a year of maintenance of macroeconomic stability, continuation of dynamic development, improvement of economic control, strengthening of financial administration in energy sector, reduction of indirect subsidies, determination of economically based tariffs, increase of employment, development of bank system, increase of salaries and pensions.
"GDP growth rose 35% to AZN 2,120 per capita. The share of private sector rose to 81% in the economy. State investment expenditures for regional projects leaped six times from the previous year. A power plant in Sangachal, Oghuz-Gabala-Baku water pipeline, Yukhari Mil Canal, the Tovuz River and Shamkir Water Reservoirs, Yevlakh-Zagatala-Georgia railroad, Lenkeran and Zagatala Airports, medical, educational and sport establishments, residential buildings for refuges and internally displaced people will be constructed and rehabilitated this year. During 2006, Imishli Sugar Refinery, Lenkeran and Salyan Milk Plants, Lenkeran Clothes Factory, Ganja Chocolate Factory and other production facilities came on stream. In total, 407 processing, 722 building, some 500 agricultural, over 1,000 commerce and service enterprises were opened in 2006, of which 40% were in regions," he said.
Minister added 360,000 of 520,000 jobs created during three years are permanent. He said thermal power plants were opened in Astara, Sheki, Khachmaz and Nakhchivan AR, 145 transformers were installed, 69 power substations were established and 480km heating supply line and 225km gas pipeline were constructed and over 12,000km gas pipeline were repaired last year.
"In order to improve water supply in regions, some 194km water pipeline, 67 sewerage lines were constructed and 64 artesian wells were drilled. New roads are being built in the country.
"Furthermore, AZN 9.1mln were lent to 1,771 enterprises through the National Fund for Assistance to Enterprise. This year we plan to implement projects worth $1bln in regions together with international financial institutions," he underscored, APA reports.