Producer Price Index climbed 12%, Consumer Price Index advanced 9% in Commonwealth of Independent States.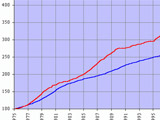 CIS Statistical Committee said Tajikistan topped with 22% for PPI while Armenia crept at the bottom with 0.9%.
Kazakhstan enjoyed 18.4%, Azerbaijan 17.7%, Kyrgyzstan 5.3%, Russia 12.4%, Moldova 12.2%, Georgia 10.9%, Ukraine 9.6% and Belarus 8.3%.
The top body said stable consumer prices led to a notable rise in real salary, income ad current savings. Increasing purchasing power in the nations stabilized consumer market, and the weight of durable and household goods advanced, APA reports.