The February 2 decision on fares passed by Tariff Council, State Price Regulator, are effective from today.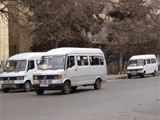 The fare per kilometer was set at 1.6 kopecks for comfortable buses, and at 1.5 kopecks for others, APA reports.
The in-city bus fares were set at 20 kopecks, inter-district and suburban bus fares at 20 kopecks for 1km-15km, at 25 kopecks for 1-25km, at 30 kopecks for 30 kopecks, at 40 kopecks for 1-40km, at 50 kopecks for 1-45km, at 70 kopecks for 1-50km, at 80 kopecks for 50km and more.
The Council also made a decision on tariffs proposed by the Land and Cartography Committee.
According to the decision, the fee for yards, gardens and corporate gardening will range from AZN 7 to AZN 25, for lands used or leased by legal ad individual bodies for business purposes from AZN 9 to AZN 170.