Oil rose on Friday after OPEC member Nigeria moved to cut supplies and on growing tension between the United States and Iran.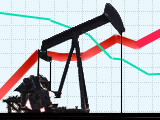 U.S. crude oil settled 18 cents higher at $59.89 a barrel after reaching a session peak of $60.80, the highest level since January 3, during intraday activity.
London Brent crude fell 2 cents to $59.01.
Nigeria on Friday cut seven cargoes of crude oil from its February export program, firming up earlier plans to improve its compliance with OPEC production cuts. Another 11 cargoes were cut from the March program.
Dealers have been watching for signs OPEC members would comply with the group's planned output reduction of 1.7 million barrels per day.
Concerns over supplies from Iran have also supported prices this week. Iran's supreme leader, Ayatollah Ali Khamenei, said on Thursday the Islamic Republic would target U.S. interests worldwide if it came under attack over its nuclear program.
The U.N. nuclear agency has cut almost half of its technical aid projects in Iran to uphold U.N. sanctions imposed on Tehran over its the program, according to a report obtained by Reuters.
"To stay above $60 on a sustainable basis would take some confirmation the Iranian situation is deteriorating further," said Olivier Jakob of Petromatrix.
Traders were also nervous ahead of the anniversary on Sunday of the 1979 Islamic Revolution, analysts said, citing worries the war of words could intensify between OPEC oil producer Iran and the United States.
Reduced supplies from the Organisation of the Petroleum Exporting Countries have helped boost prices, which in January fell to a 20-month low of $49.90 for U.S. crude.
OPEC's overall exports in January fell by 200,000 barrels per day (bpd) from December, shipping data from Lloyd's Marine Intelligence Unit showed, bringing the group closer to its pledged supply cut of 1.2 million bpd from November.
The group's exports were expected to fall again in February with implementation of a second OPEC cut of 500,000 bpd.
Kuwait's oil minister said on Friday that OPEC had removed enough supply to prevent a large build in global stockpiles and that the cartel would not need to cut more production when it meets again in March.
In Europe, data from Euroilstock showed inventories declined 13.62 million barrels in January to 136.94 million barrels in the 16 countries monitored.
Gasoline stockpiles fell last month by nearly a tenth from a year earlier. Reuters