Azerbaijan State Agency for Public Property Management, Finance Ministry, Economic Development Ministry, National Bank and other relevant bodies have prepared a package of proposals on privatization of 50% of the state owned Kapital Bank.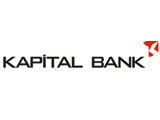 Committee Chairman Karam Hasanov said propositions have been prepared to double the Bank's authorized capital to AZN 24mln, to have privatization appraised by a consulting company, to float newly issued bonds. He said privatization will be complete this year.
 
In Azerbaijan there are two state-owned banks –the International Bank of Azerbaijan and Kapital Bank. The State holds a 50.2 stake in the authorized capital of the IBA, and 100% of the Kapital Bank, APA reports.