New administrative building for the Department on work with heavy taxpayers has been inaugurated.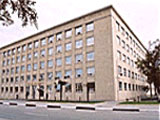 Taxes Minister Fazil Mammadov concerned himself with the working conditions in the new building, APA reports.
Department Director Sahib Mammadkhanov said complete database on taxpayers have been created and they will be able to get information about their financial indicators.
He added heavy taxpayers will have to make electronic declaration in a few days.
Over 40 heavy taxpayers , including SOCAR, Information and Technologies Ministry, Azerbaijan Airlines, Caspian Shipping Company, Azerbaijan Railways, Azerkimya, Azersu, Azerigas, Azerenergy and Baku Metro, make 80% to 90% of inpayments.