Some Azeri banks asked the National Bank for extra time as they didn't manage to completely float their stock issue due to non-workdays in early January.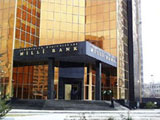 The National Bank Director General Rufat Aslanli said banks have to remove the shortage in their authorized capital in balance sheet at early February and increase their authorized capital to the minimum limit.
He also noted it is illegal that some banks demand an additional security in mortgage lending, and mortgagors should turn to the National Bank.
"A security can be required for apartment in the buildings under construction. However, it is illegal for old buildings," he said.
Aslanli said 18 of 23 authorized banks also lend mortgage loans in regions and there is no need to get to Baku for a mortgage.
About 25 mortgage loans have been lent since mortgage lending started in Azerbaijan on March 1, 2006. APA