Bulgaria, Greece and Russia will sign an agreement Wednesday for the construction of a long-awaited oil pipeline that will funnel Russian oil directly to southeastern Europe — bypassing Turkey's busy Bosporus Straits, officials said.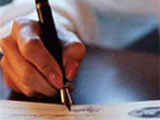 The three countries will sign the deal for the 280-kilometer (175-mile) pipeline at Bulgaria's Black Sea port of Burgas, the Ministry for Regional Development and Public Works announced Tuesday.
The cost of the privately funded project is estimated at between ?700 million and ?1 billion (US$1 billion and US$1.3 billion).
The pipeline will bring Russian oil from Bulgaria's Black Sea port of Burgas to Alexandroupolis in northeastern Greece, bypassing the environmentally vulnerable Bosporus Straits. Russia is expected to have a 51 percent share in the deal, with Bulgaria and Greece splitting the remaining 49 percent.
In discussion since the early 1990s, the venture received new interest because of high oil prices.
Last September, Russian President Vladimir Putin, Greek Prime Minister Costas Karamanlis and Bulgarian President Georgi Parvanov met in Athens to pledge political support for the project. Putin last week again urged faster progress.
The Burgas-Alexandroupolis pipeline, tentatively scheduled for completion by 2010, would initially carry 700,000 barrels of oil a day port through a 36-inch (90-centimeter) pipeline, with capacity set to eventually rise to more than 1 million barrels a day.
Russia's Gazprom-Neft and Rosneft are to participate in the venture, along with Russian-British venture TNK-BP, Bulgargaz and Terminal Universal Burgas from Bulgaria, and Greek companies Promitheas Gas, Hellenic Petroleum and Petrola.
It remained unclear whether Wednesday's agreement would resolve a dispute between Sofia and Moscow over ownership of the Burgas oil terminal.
Opposition lawmakers in Bulgaria argue the deal should be scrapped if Russian companies are granted control.
Burgas-Alexandroupolis could compete with another planned pipeline venture.
Last week, Macedonia, Albania and Bulgaria agreed to build an east-west pipeline from Burgas to the Albanian port of Vlore.
The 895-kilometer (556-mile) pipeline is also due to be completed in 2010, costing an estimated US$1.2 billion (?927 million). The Associated Press
/The International Herald Tribune/