A delegation led by Azerbaijan Transport Minister, Ziya Mammadov, has today left Baku for Tbilisi.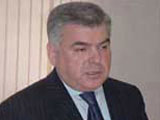 The ministry told the APA that Ziya Mammadov will meet with Georgia's Economic Development Minister Georgi Arveladze and sign an intergovernmental agreement (Framework Agreement) on Baku-Tbilisi-Akhalkalaki-Kars railroad project.
Azerbaijani President Ilham Aliyev is expected to arrive in Georgia on February 7. During his visit, intergovernmental agreements on financing of rehabilitation of old railroad in Georgia, construction of Georgian part of the railroad, a loan contract between International Bank of Azerbaijan and Marabda-Karsi Railways LLC are expected to be signed.
Azerbaijan is going to extend a $200mln unsecured loan to Georgia's Marabda-Karsi Railways LLC for 25 years at 1% interest rate annually.